THE FLYING CUPCAKE
Oh my heavens...another lover of wings...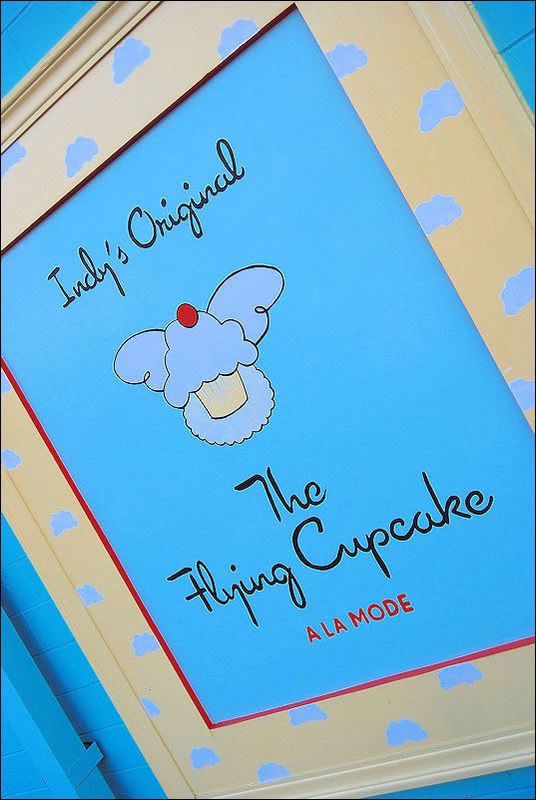 Let me preface this post by saying that Brennen brought home a great report card from school on Friday of last week. Beings that we were sick all weekend, I wanted to take the kids and treat him for a job well done yesterday once they were both home. So first, we headed to our favorite nacho supreme place in the world. Yes, that quaint little hole in the wall that I've loved for years. Well, Brennen is now obsessed with their food as well. After scarfing down a plate of those awesome out of this world nachos that were piled high with sour cream, we headed just a wee bit south to a place I had recently found while googling "cupcake bakeries" in our state. OH.MY.GOODNESS. Those three words sum our experience there perfectly. Welcome to the "Flying Cupcake."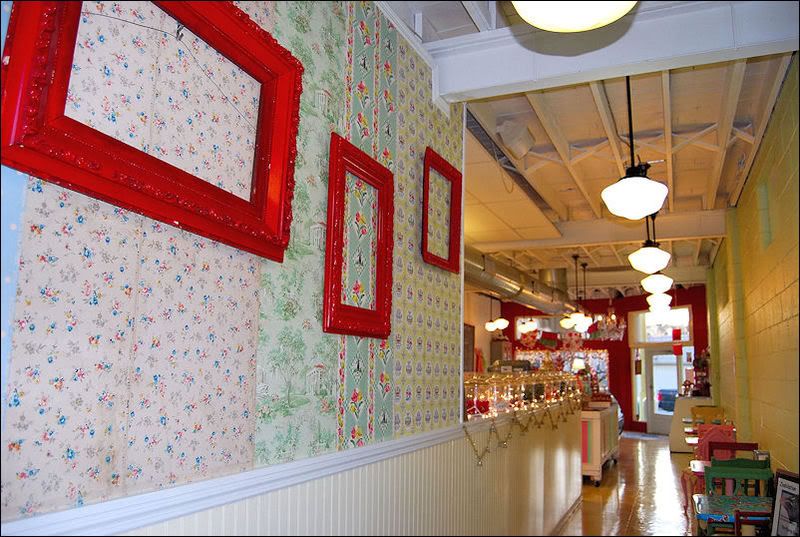 I of course knew it was going to be a great place when I got out and saw that their sign reflected wings behind the cupcake on their logo. Oh yeah...this is going to be right up our alley. This place was the most eclectic and whimsical place I'd ever seen. Perfect for kids. Sitting in an area of town known for its nightlife and draw to the younger crowds, it was perfect for my kiddo's and I on this chilly November afternoon. The character of the store as well as the character of the building and environment outside were just the best. I'm posting these photos here for all of my fellow Indiana Hoosiers so that you can make it a point to go and visit the "Flying Cupcake" when you have the time.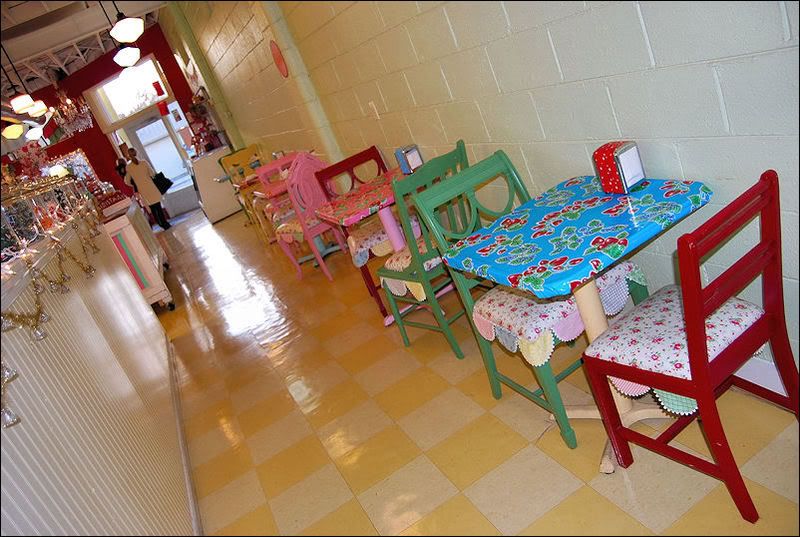 You walk into the store and it initially reminds you of the "back in the day" old soda or candy shops. Lots of apothecary jars. Vintage ones. LOVE that! The tables are painted in quaint colors that attract a child's attention like no bodies business.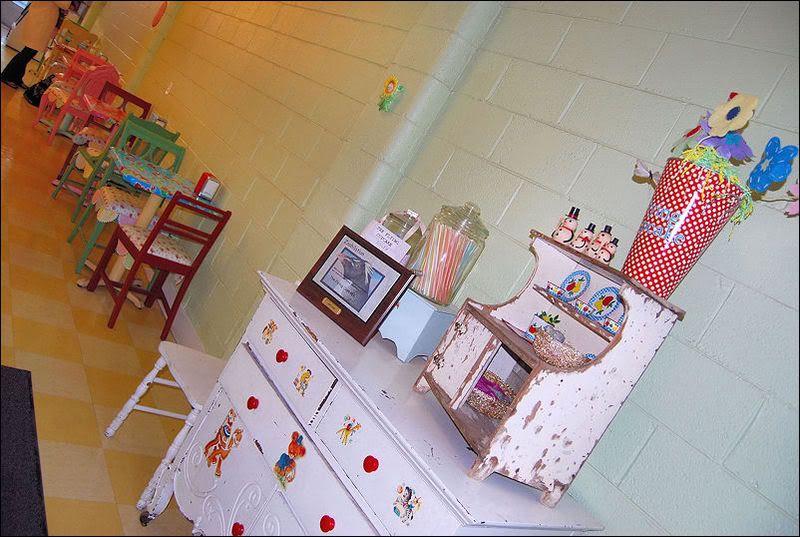 The furniture on the walls and within the space are beat up, bruised, worn out, plain old. LOOOOVVVVEEEEEE that!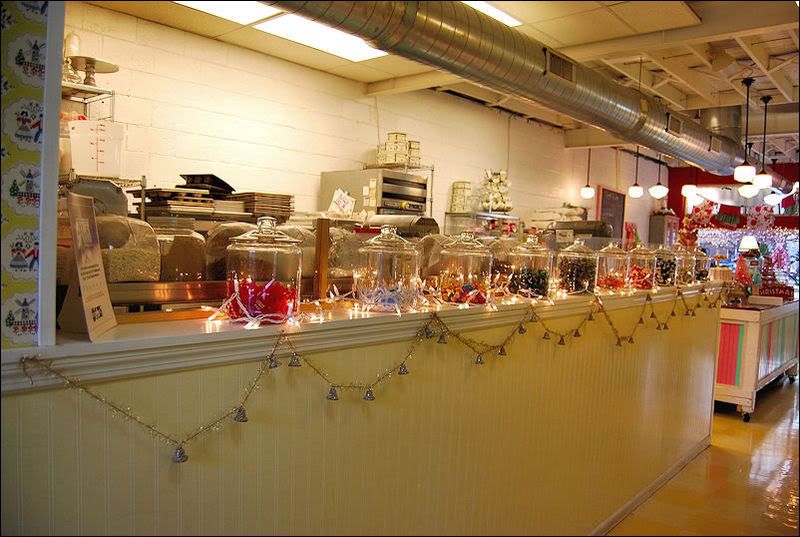 You can see the pipes in the ceilings. Like an old loft or warehouse. Love that too!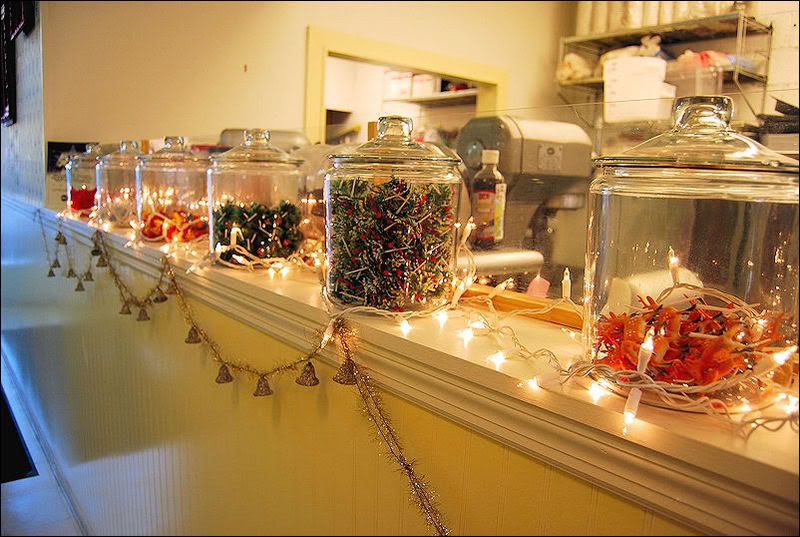 They had already begun decorating for Christmas and let me just tell ya'...Vintage, Vintage, Vintage. Perfect in every way. The nostalgia of anything done in the color of pink surrounding Christmas decorations makes my heart swell.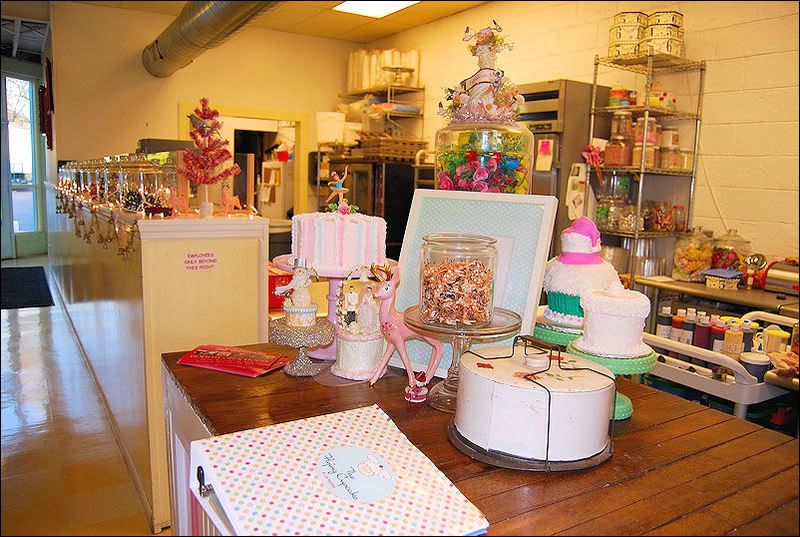 There were just so many yummy colors in this place that it totally should be classified as "criminal." Is it Gaudy? Yes! But oh how stunningly gaudy it was.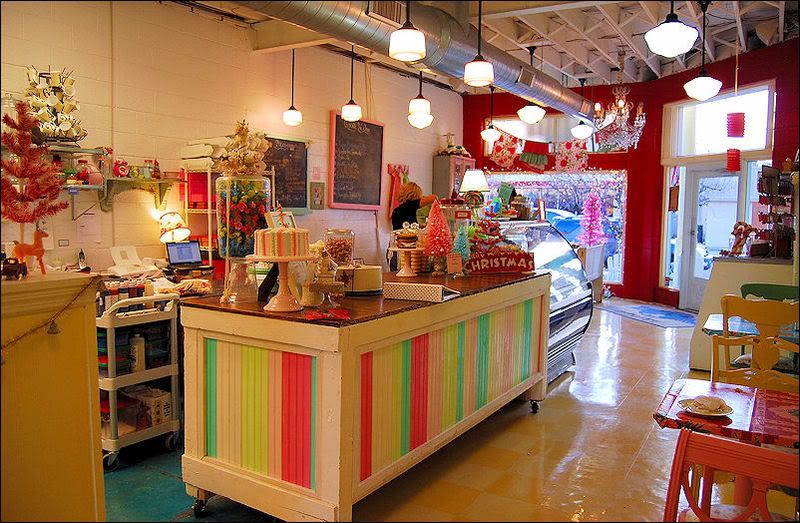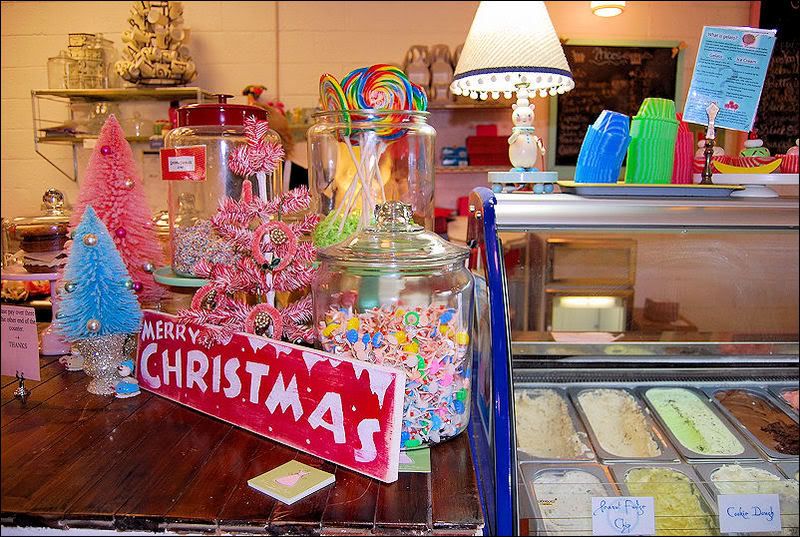 They even served gelatto on top of the fantabulous cupcakes they offered too.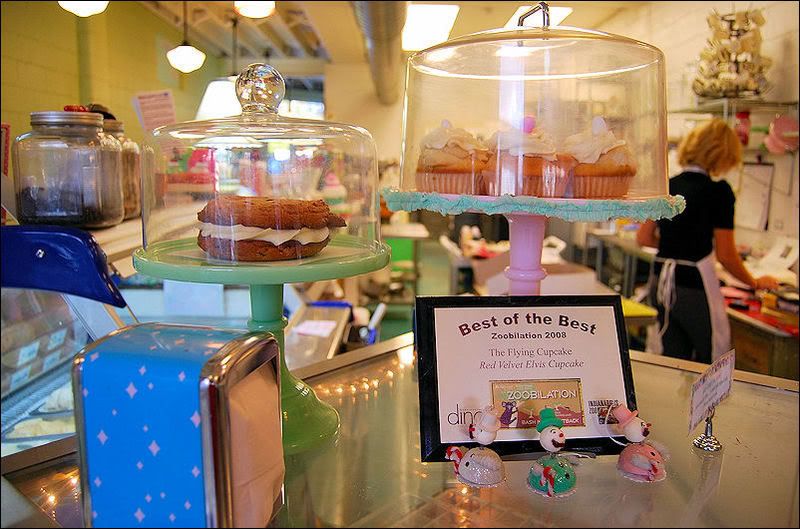 I soooooo need these pink and aqua painted cake stands for my studio at home. I could surely display something worthy inside them. Right?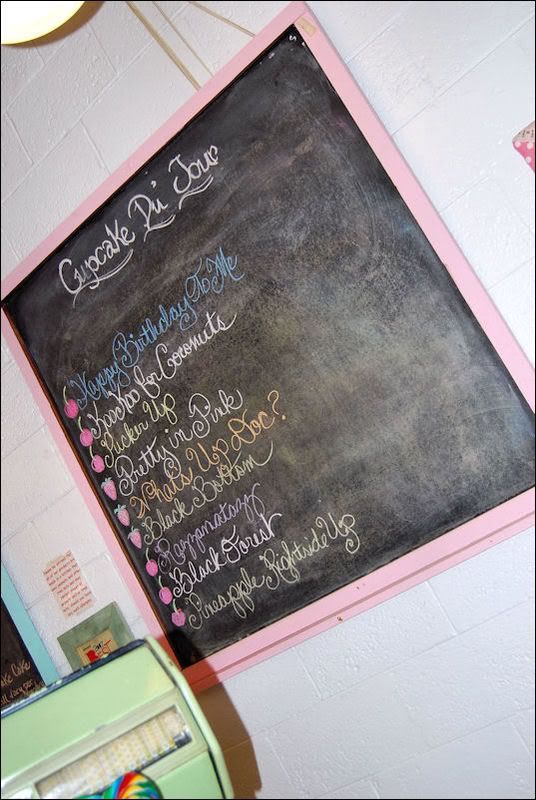 And the classic pink chalkboard proudly displaying all of their flavors above, I need it for my studio too.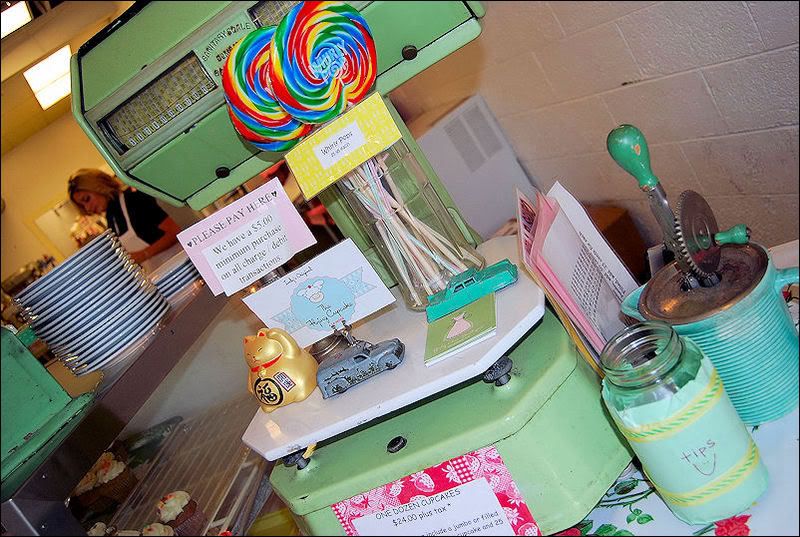 Love the old fashioned lolly pops here...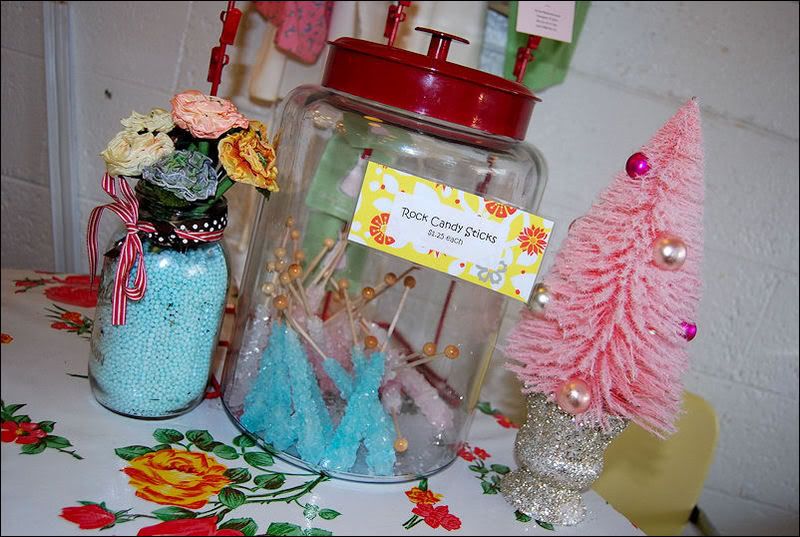 And their old time rock candy sticks done in my most favorite color in this whole wide world...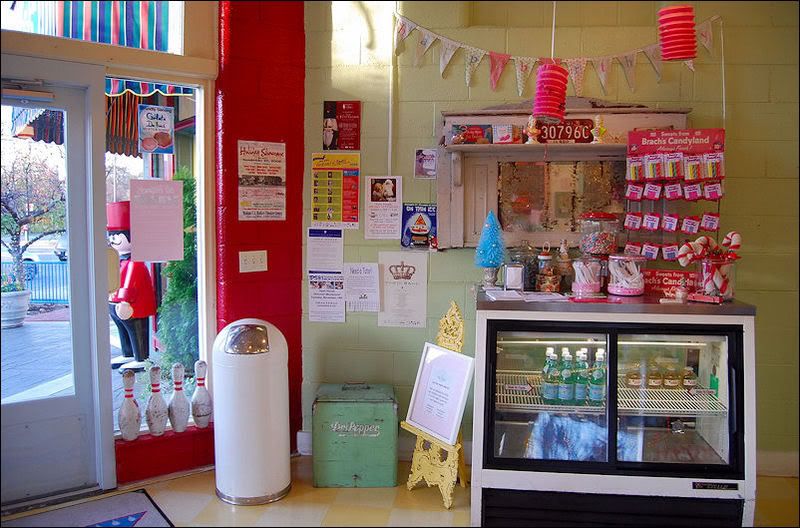 Check out the bowling pins in the window as well as the seafoam colored old Dr. Pepper cooler on the wall there. What flare they both bring to the space. Seafoam...again another one of my all time favorite colors.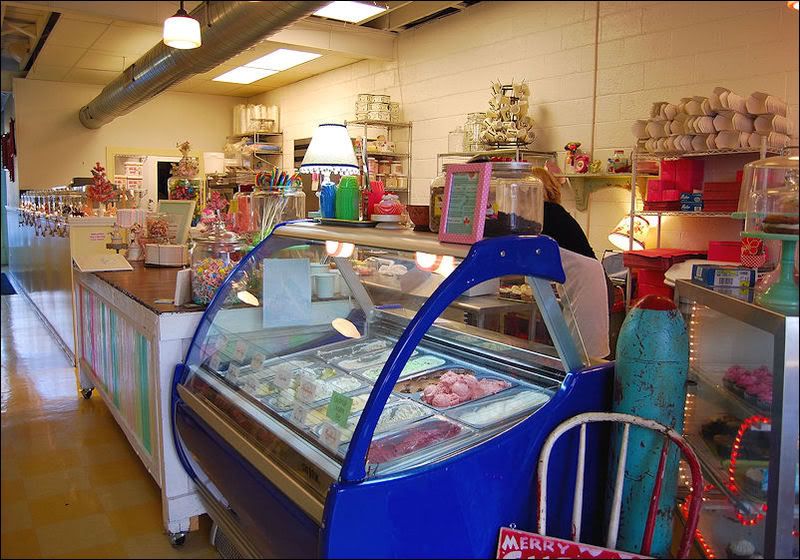 Oh and let's not forget this gorgeous brilliant blue ice cream case...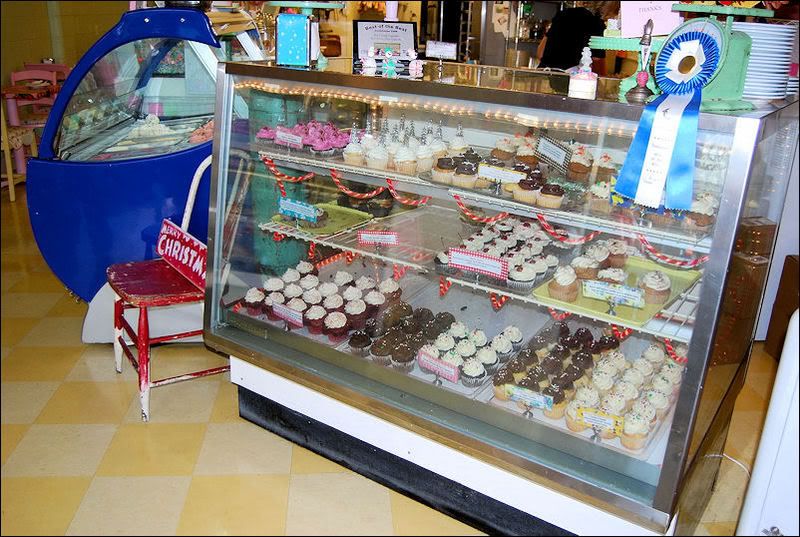 Here is an awesome display of their fantastic work and what they are apparently so known for...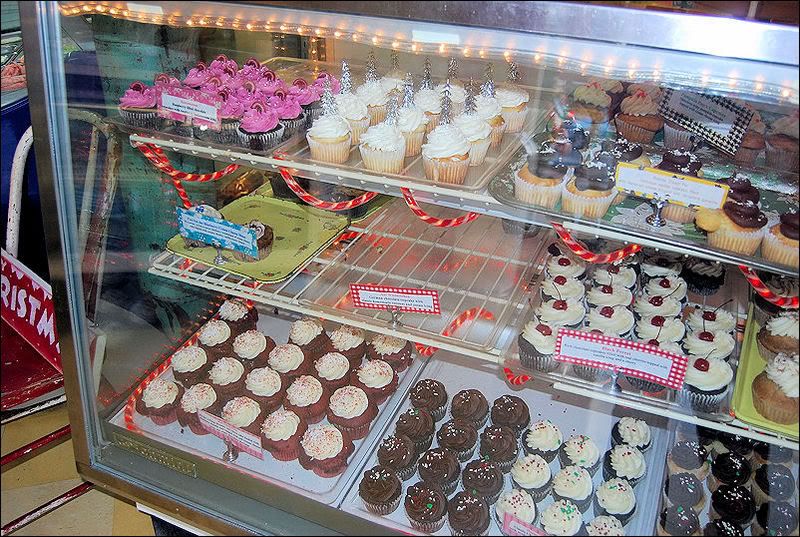 Kenidi thought she was in heaven. (PS...This shot of Kenidi below drove me crazy. In my files - it is as smooth as a whistle. On the blog however, it's grainy as all get out. As you can see. Just something to throw a wrench in my day. One small thing in life that can cause me to go nuts if I'd let it. Believe me-I almost did. Did I mention how much I love "Blogger?" HA!)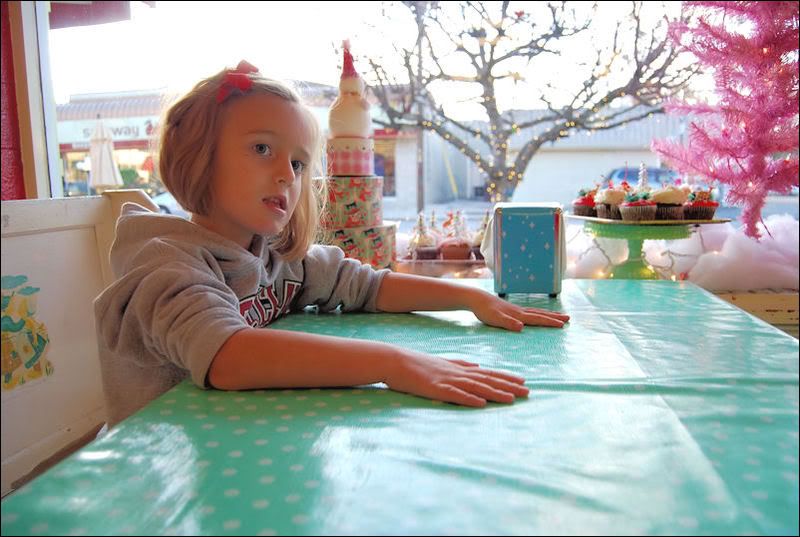 I adore this aqua colored polka dot table cloth above...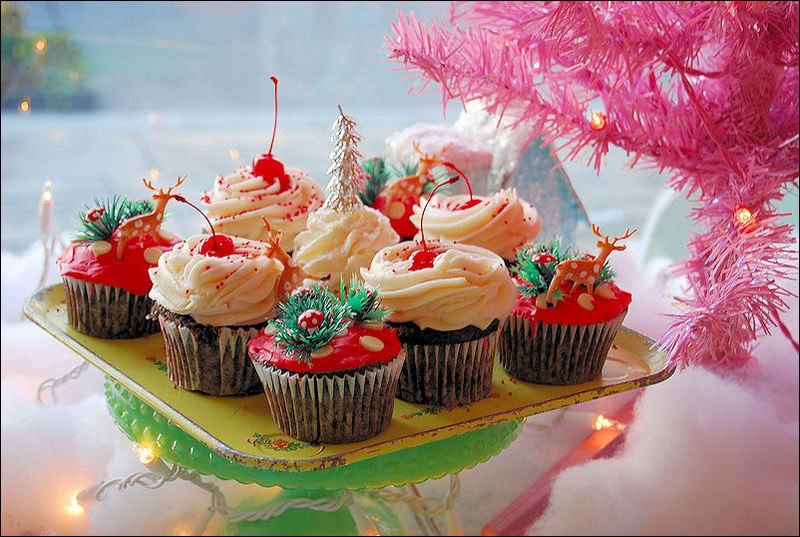 Look at these babies...perfect. Shear perfection wrapped in a piece of paper. How cute are the reindeer on top? And the pink Christmas tree? Oh Mom (my Mom)...I know you want it. :)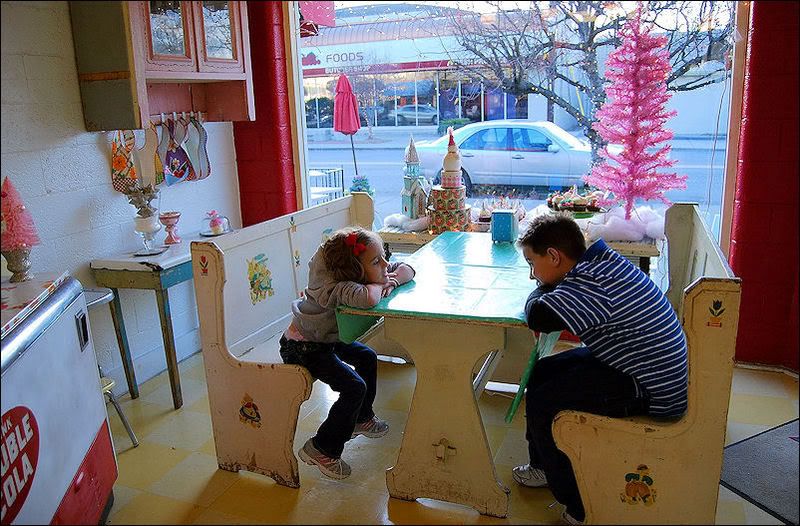 This image of Kenidi and Brennen makes my heart melt. That moment captured on film was worth the drive all in itself. A shot like this one above is why I am so passionate about photography. Without "Razzi," I'd never see that moment exchanged at that time between the two of them again. However, because of a camera, I've got it in my heart, my mind, and my hands forever now. The decor around them, the struggling light inside the space, the moment...it's priceless. All of it. (although it again is showing up grainy here on the blog)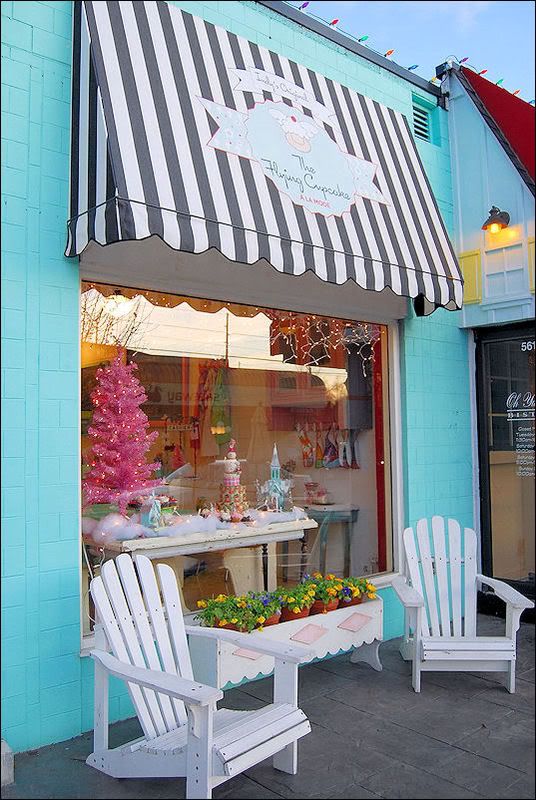 The outside of the building reminds of Florida. My favorite places in Florida. The aqua building with the white arondach (sp?) beach style chairs. The black and white striped awning with the pink in for their logo. The wings on their logo. I was in heaven. I would've loved to have met the owner of this place while there. Unfortunately, they weren't in. Either way, the nice young girl working the counter was kind enough to let me snap away while inside there. I was truly in my element. Then, to take these home made it even better...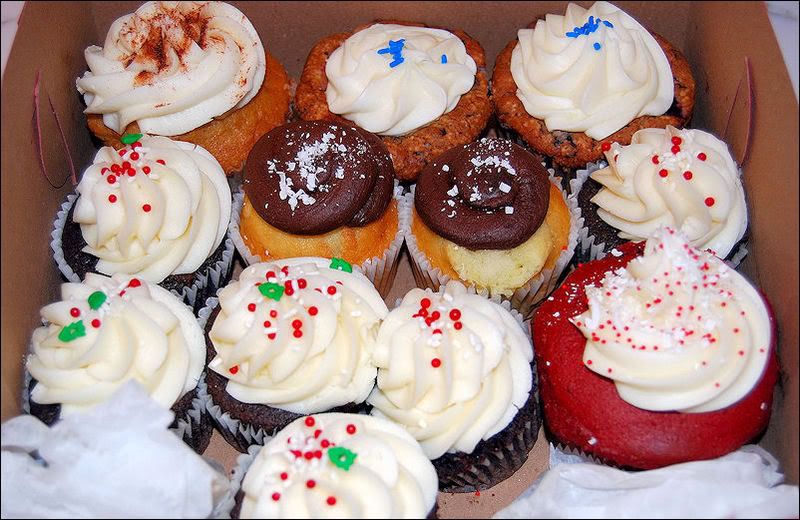 The best part about the location of the "flying cupcake" is that they have a children's book store right next door to them called "Kids Ink." This is where Brennen's REAL treat for the good report card came in. He and Kenidi both love books. Brennen is especially into reading this year. He has a 4th grade teacher that has really sparked his interest in reading and I'm so thankful for this. We went next door to Kids Ink and spent an hour just walking around in there helping him to pick out some books, a toy, and a sketch pad that he fell in love with. Kenidi Grace found her some Santa Claus books that she had to have as well. I told ya'all that she is really into Christmas this year. The only bad part to our day is that on our way home, Brennen let me know that he no longer believes in Santa and that he knows Santa is really his Daddy and I. I've fought it for two years and finally this year decided that he was almost 10 years old and I couldn't keep it going any longer. Boo hoo! Just another sign that he is growing up right in front of our eyes - way faster then we'd prefer.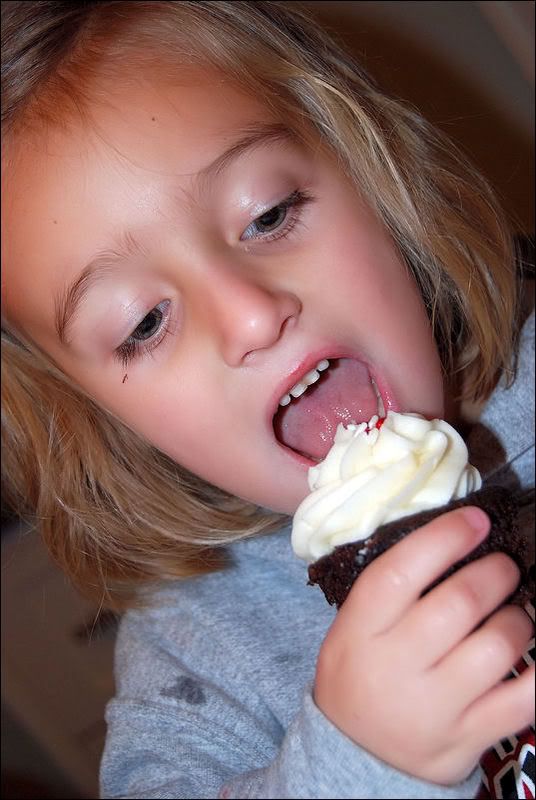 On another note and back to topic...you didn't think I'd leave you without images of Kenidi scarfing down one of these beautiful cupcakes, did ya? NEEVVAAHHH!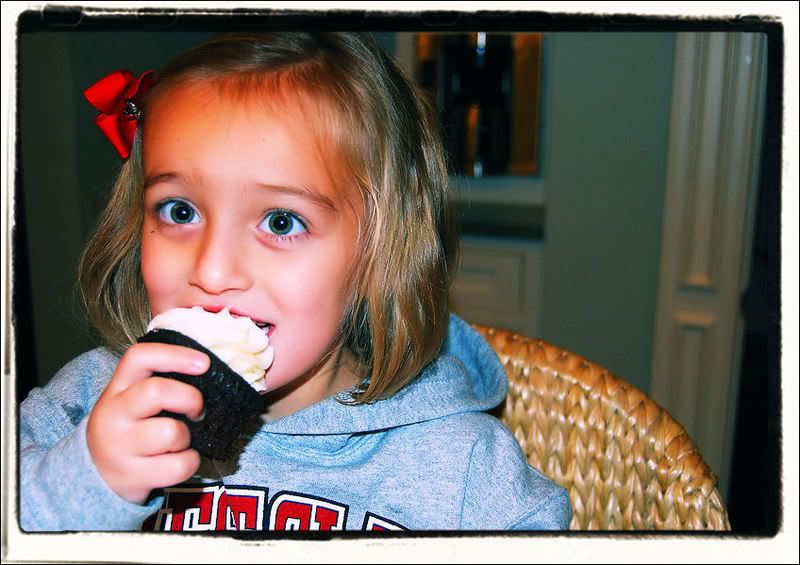 It is days like these, with your children, that make life so bright, so joyous, and Motherhood so valuable. Life is a gift, every second of it, and yesterday was no different for us.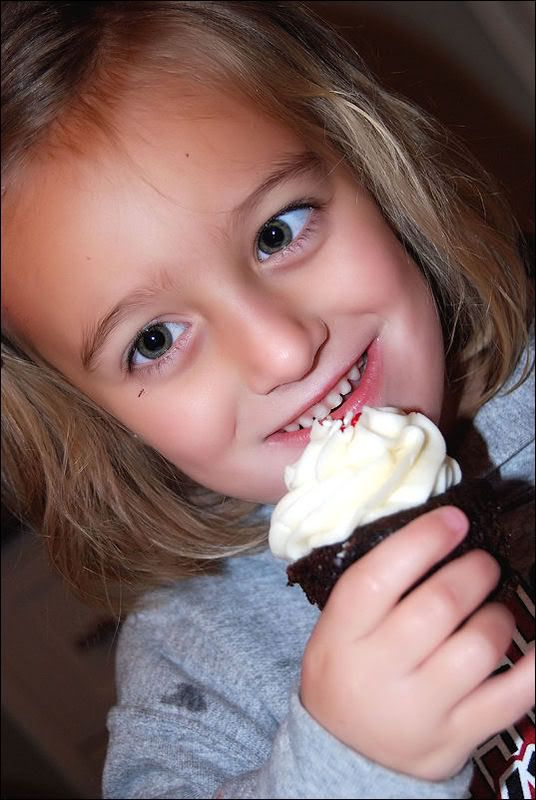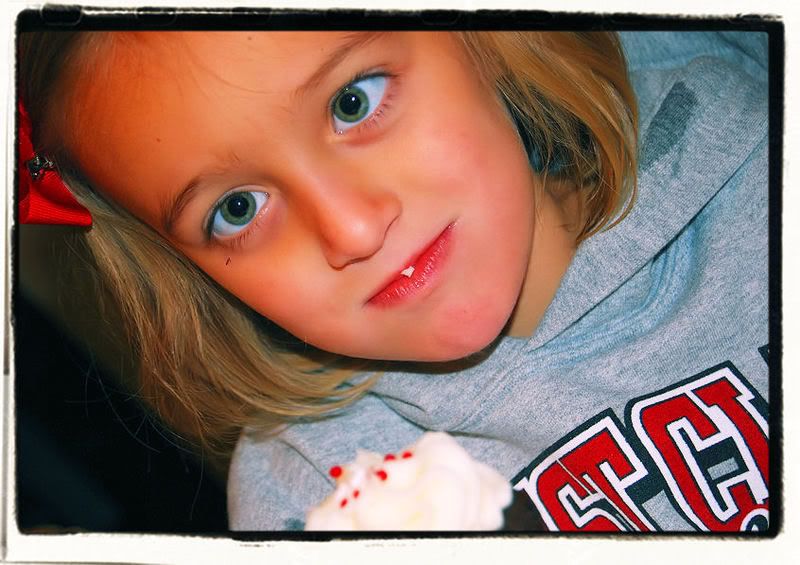 Now, if you are from Indiana, go to the Flying Cupcake. If you are outside of Indy, google cupcake bakeries, find one close to you, and then take your kids there for the afternoon. I promise it will be worth the trip.
Sugar Sugar...love it!
xoxoxo, Angie
Labels: personal